We are excited to announce that we have appointed a Postdoctoral Research Associate for our Centre for Invasive Species Solutions project on understanding and intervening in illegal trade in non-native species. Oliver Stringham (from Rutgers University, NJ) will commence in January 2019, and we look forward to welcoming him to the team.
Phill will be attending the Research, Development & Extension Portfolio Innovation Showcase with the Commonwealth Department of Agriculture and Water Resources and the Centre for Invasive Species Solutions in Canberra later this month.
In October, Phill will be heading to Conservation International's Global Science Priority Setting Meeting in Washington DC and Adam will be joining Phill for the final Linking Trade, Biology, and Pet Owner Decisions to the Risk of Vertebrate Invasions workshop with the National Socio-Environmental Synthesis Center in Annanapolis, Maryland.
Our PhD student Adam recently gave a great talk on his PhD research at the school of biological sciences seminar series and he has also been busy volunteering with the SA Herpetology Group at the Science Alive SA event to teach kids about Australian amphibians and reptiles. We would also like to congratulate Adam for being awarded the Bill Retalic Prize for Science and Justice to support his PhD research project.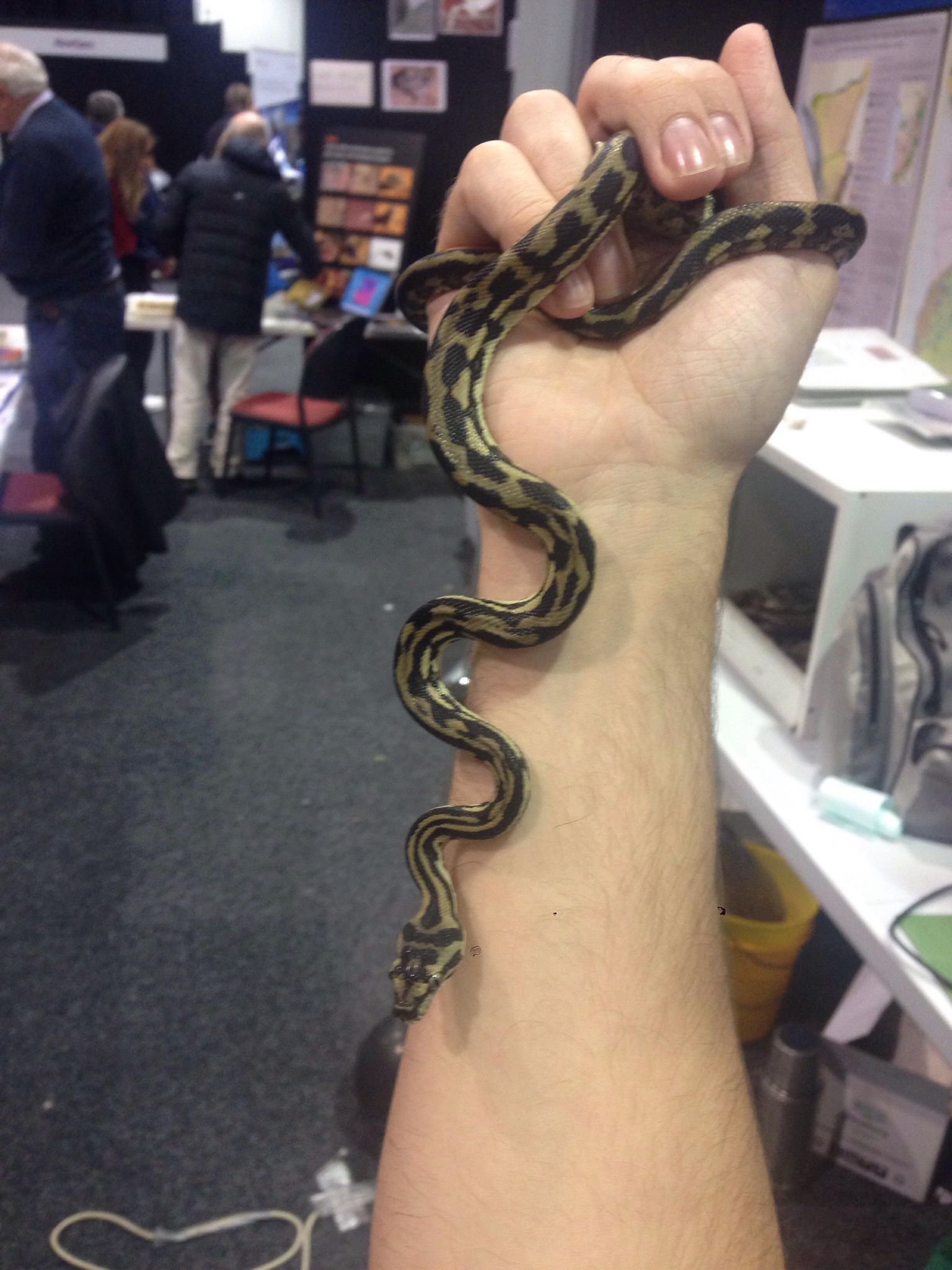 Adam holding a Jungle python (Morelia spilota cheynei) at Science Alive SA.
Sarah gave a great talk about wildlife crime and pangolins for National Science Week at the University of Adelaide as part of the "Game Changers in Science". Sarah will also be busy travelling to London next month for the Evidence to Action: Research to Address Illegal Wildlife Trade Conference.
Phill, Adam, Jack, Sarah and Bowie recently completed their second-year Ecology Frahns Farm Field Trips, where students conducted a series of surveys to start a long term monitoring program of the site, with the objective to document ecological changes as the site is restored.
We would like to congratulate our former PhD student Toni Dalziel for her outstanding efforts and her upcoming graduation event at the University of Adelaide later this month.
We are excited to share some of our new papers, 'Transport pathways shape the biogeography of alien freshwater fishes in Australia' and 'Remoteness promotes biological invasions on islands worldwide' with our colleague Pablo García-Díaz.